Impending radio silence
The socks... are still going. More accurately, the
sock
is still going, and let's not even talk about second sock syndome, pls.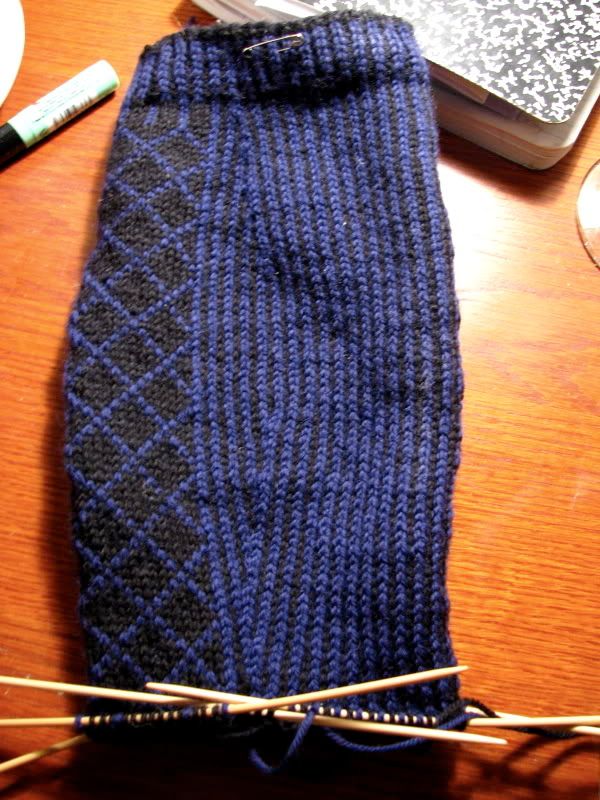 I increased a bunch and am now working through the decreases (and please do cross your fingers for me) will end right about where the heel starts, which would just be too keen (cue impending knitter god wrath for my Wicked, Wicked Pride
1
). It's still a little tight, but not boa-constrictor-esque. The sock's partner isn't going to be a perfect match (at ALL), as I'm increasing/decreasing every 3
ish
rows.
Here's a 2 stitch increase that I "made up" and used to fix the fact that I forgot to cast on in a multiple of four: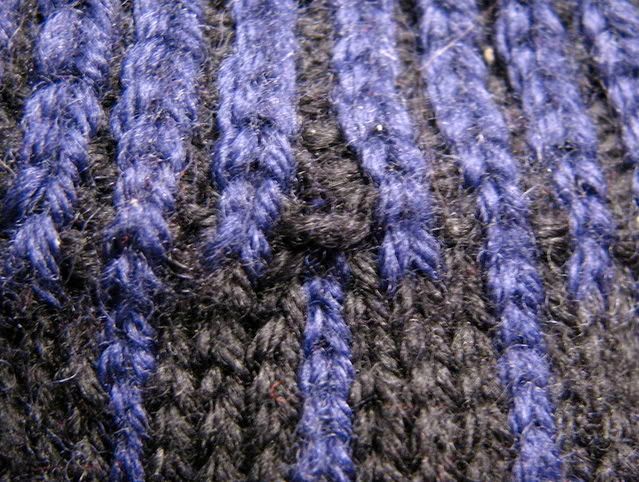 In the same stitch: knit, knit into stitch AND STITCH BELOW, knit. If you use this a lot and/or the stitches are stretched it can result in a little hole that's quite pretty. No idea why it didn't happen here, but I'm not complaining.
At the same time the Mystery Pattern finally arrived: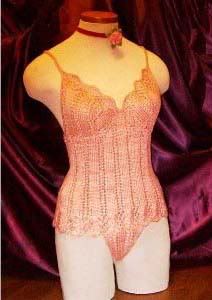 (click on picture for link to store)
(I have to admit that I wasn't thrilled with the service. It took a week for her to let me know wht my first order didn't go through, and then another 8 days to get to me -- good thing I wasn't too anxious. Also, I got charged $1.50 for shipping when it was actually 87¢, but maybe the extra is for the envelope or similar?).
Thing is... I'm not sure I have enough yarn. The merino/silk I have is dk and the pattern calls for worsted, and the largest size of the pattern requires 630 yards (including underdrawers, which I'm not making), and I have 540 yards (which is what's called for in the next smallest size.
I was thinking that since I'm using smaller yarn I'd make the bigger size (to be double-checked when I do a swatch), but I don't know if it'll work. I may replace the knit straps for ribbon, though, which would free up... YARDS... of... yarn... I hope?
I wish it came with a picture of the back.
ANYhoo, I've also been working on figuring out a sweater pattern. Work, until today, has been really slow and offers plenty of time to sketch and even do some maths. It's a design I saw on a woman in a restaurant, and have never seen anything like it before or since (though it's a tricky search). I've been prototyping with some crap yarn, and hopes are high.
Mysterious? Yes! But I would like to, um, maybe publish it if I can ever figure it out. You understand.
In the meantime, most-if-not-total radio silence is going to occur between this-and-next Thursday because I'll be here: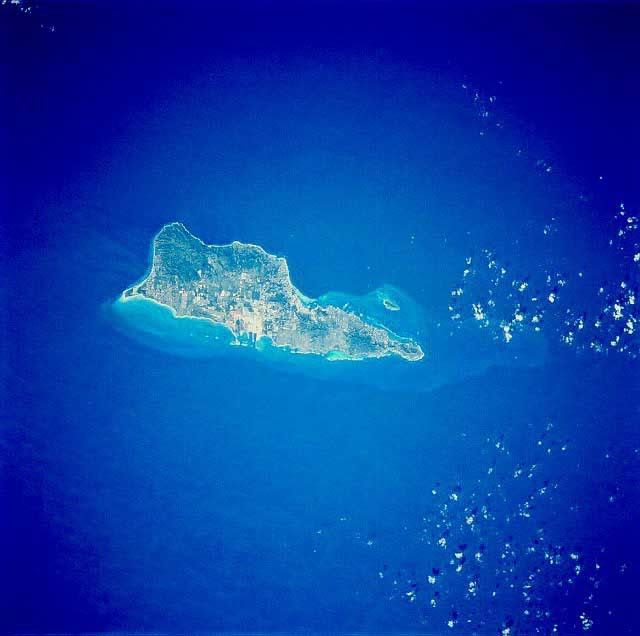 for
this
.
St. Croix, US Virgin Islands. Tropical Dance Vacation. A week of contra dancing, tooling around the Caribbean, and rum.
It's my first island vacation without my family, which is going to be strange. I'm staying with a couple of friends, which is brilliant. Scuba diving, snorkeling, getting sun burnt beyond recognition, rum, and diet smashing (rule: only break the diet for something Really Worth It, e.g. biscuits. Or cake. Or -- I should stop).
1
Hey, have any of you seen "Wicked, Wicked Games"? Isn't it
awful??