Taking a break
The sweater keeps getting bigger, the rows get longer, and I need to... not look at it for a few days.
And the arch-shaped socks? I'm not... entirely positive where they are right now. No, seriously. I
think
they're in my bookbag from St. Croix... Maybe?
I started some mittens with some Jo Sharp Alpaca Kid Lustre in deep maroon. Not sturdy, but will keep me warm on the way to the car in the mornings. It's going fairly quickly, which is kind of exciting. No pictures yet. Soon, though! I'm thinking that since they're simple I may embroider them a la
Lene
. (She talks about her methods
here
).
I also picked up a half-finished handkerchief and finished it up: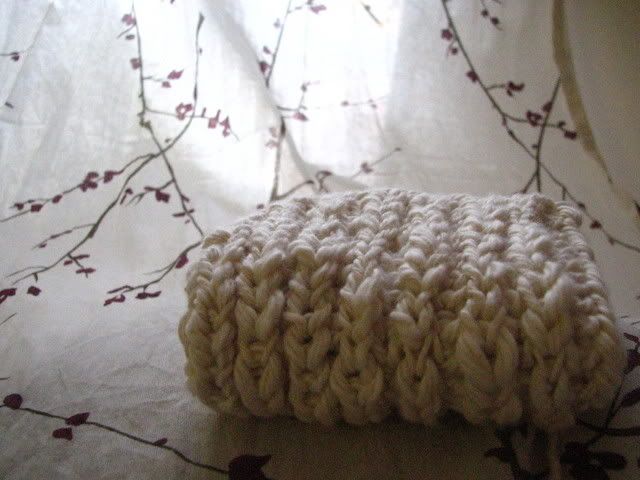 (I need to fuss with my camera controls. BOY is that noisy).
(Okay, I'm just excited that I know what that means).
I got some use out of the previously finished one while I was sneezing and snurking through my post-vacation cold, and here are my conclusions:
So
much better than the paper towels I'd been using at work.
So
much better. Of course, so is fine-grade sandpaper, but these made my nose happy.
Pattern for super nose protection
(though you hardly need one):
-1 skein
KFI Patagonia Nature Cotton
makes two handkerchiefs with a smidge left over.
-Size 5 needles (though I tend to knit pretty tightly -- just keep your gauge loose enough to be drape-y but tight enough that they don't, you know, leak).
CO 22 sts (for a larger one cast on 30, but if you tend to carry things in your pockets keep in mind that the larger size can be a little bulky)
Fisherman's Rib:
Row 1: k1p1 all the way across.
Row 2: Sl1, p1, *K into row below, purl, repeat from *.
Repeat row 2 until you have a square-ish shape. Since this is a pretty boingy stitch it's a little hard to tell. Estimate. It's just a handkerchief.
Bind off, weave in ends. Use to cover nose. Blow. Wipe. Snurgle.
If you're squidgy about immediate contact with nose goo then make a lot and throw them in the washing machine when you run out.
If you're
not
, however, then you can get away with one or two. When it starts getting full of goo then just take it to the sink, give it a rinse, and wring out. It's damp when you use it again, but the cool water feels really nice on a sore nose.