Xtreem!
Oh, y'all, I
promised
a picture of my extreme knitting and never delivered. Honestly, I was hoping that I'd get a better picture and it didn't happen, so here's the blur-tacular shot I do have. You ready?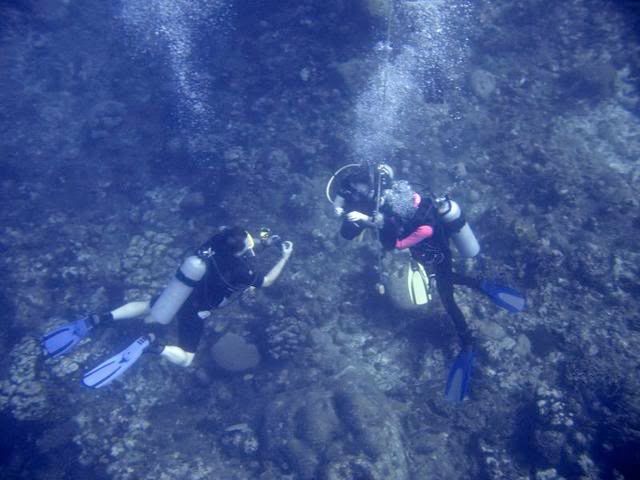 That's right! Scuba knitting! Scuk! (Self-Contained Underwater Knitting, of course).
I didn't bring a real project, just cast on a few with some remaindered KP Andean Silk, tucked it and some needles into the pocket of my BC (bouyancy compensator) (that's the vest that you attach your tank and hoses to) and pulled it out at the end of one of our dives in St. Croix.
It was tricky. I didn't bring the whole ball of yarn (that would just be silly!) and the working end flew everywhere. It was not my best evidence of knitting. I was floundering around a bit too, so Lisa (in the pink!) held me fast so I could concentrate.
The delightful part is that I forgot my needles and yarn in the (rented) BC pocket and it got taken out the next day. The knitting went on almost as many dives as I did. Luckily I got everything back. I got a
real
funny look from the woman who'd been using my vest when I asked if I could borrow the BC and pulled out needles and yarn.
She laughed, too.
Xtreem knitting close up! Whoaaaa! Whoooaaaaaa!