Near-ambition?
So. I was at the crown section of Shedir and tried it on (I'd been having some trying-on issues because if I stretched it that far then it'd fall off the needles, which, as we all know, = bad).
It's, um... well, look: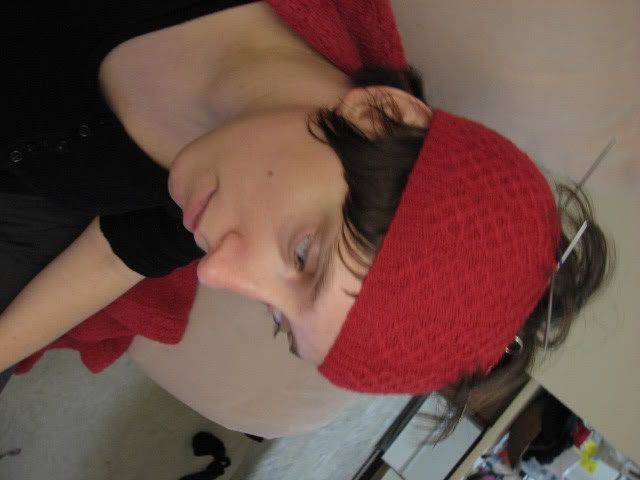 Yeah. It -- yeah. And do I know an teenagers who that might fit? More accurately, do I know-and-like any teenagers who that might fit? Big ol' no. So I'm not sure what to do. I could:
1. Rip that puppy because... well. I do that a lot. (Hat? What hat? I knit socks!)
2. Finish and donate... to... somewhere? I know someone going through chemo at the moment, but I don't know that it would fit her either...
3. Rip back to the body cables, rip back one repeat, do the crown, give to friend-having-baby? (Seriously -- without stretching this thing could fit a baby).
And I... dunno. And now I've spent lots of time on something non-Christmas, which makes for more of "HOLY HELL ONLY 21 DAYS LEFT UNTIL CHRISTMAS OH CRAP OH CRAP" because really, that is what Jesus was all about.
So I rooted through my stash and nostepinned-and-swatched a couple of yarns and HI COULD NOT GET GAUGE.
Except with some leftover Plymouth
baby alpaca worsted
of which I have not enough. Then I thought about ordering it, but if I'm going to order more then I may as well order the recommended yarn, eh?
Instead I ran to the yarn store on Sunday when I was all kinds of pressed for time, where I found out that they're not open on Sunday which is, to me, ridiculous. Yarn stores should be open 24 hours. I will become president and make this happen. Just you watch.
So, being the resourceful (read: impatient) young knitter that I am, I packed a ball of Knitpicks' Andean Silk (sizzle? What sizzle?), pattern, and... size... 1 needles? or similar and took off for Handel's Messiah, which I wouldn't have attended if the lovely-yet-blogless Kate weren't singing in it. Because y'all, it's 3 hours long. That is a lot of long.
I decided it wouldn't be rude to knit during the performance because Kate said it was okay. That is reason enough for me. Also, helps with the focusing on the music. I was able to keep the needle clinking down to a minimum and only dropped a needle once, which was far (far) less disturbing to the audience than the people in front of me who 1. kept coughing, 2. slept, and 3. left early.
I hate audiences.
After 2.5 hours I finished the ribbing (2.5 hours = 9 rows ribbing? Ouch) and post-dinner I went home, climbed into bed, did one section of the first set of cables (1/8 of the hat or 16 stitches) before putting it down so I could try to sleep. At 9:30pm.
The new hat, while not having gauge, SHOULD end up about 21.5", which is a solid hat size... I hope... So... still going on that...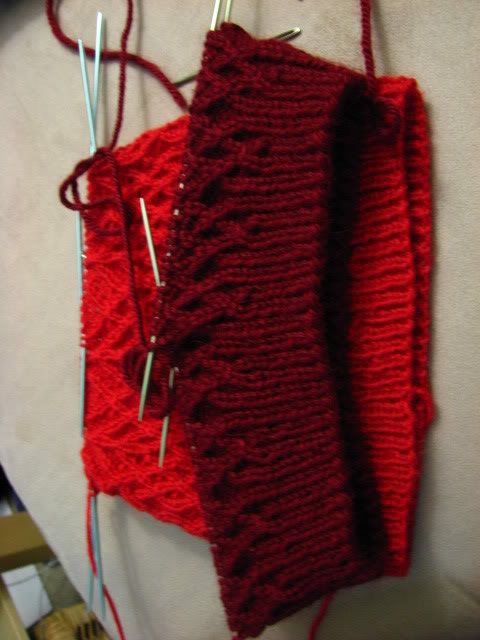 And I did a row and a half on mom's mittens! Zowie!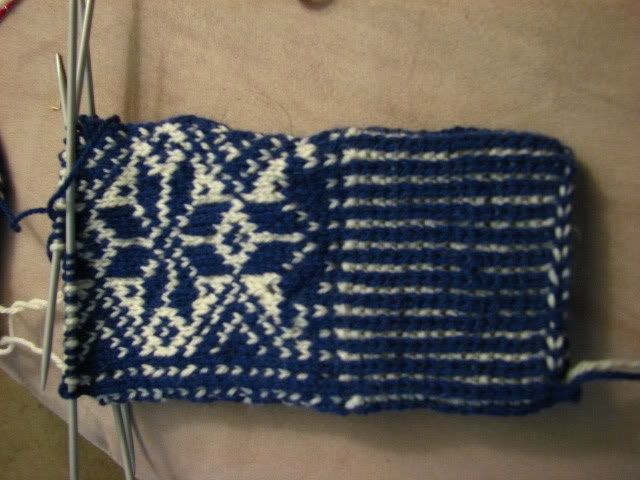 A-mazing.
#40. I wasn't kidding when I said I was slow. Sheesh.
#41. Next year, nothing more complicated than a potholder for christmas presents. Seriously, self.
-----------------------------------------------
Me, at work:
Hm. What to get for friend of whose tastes I am currently unsure?

I know, I'll knit him a scarf!
#42. I just never learn.