Ridiculous
So I've knit up 1.5 potential handkerchiefs with Nature Cotton. I used fisherman's rib because it's cushy and seems like maybe absorbent? We'll see how it goes, but I'm cautiously, moderately optimistic.
I've been floundering a bit lately because I'm fighting to get a sweater's worth of Queensland Kathmandu Aran Tweed, and let me tell you, it's not as easy as it seems.
Well, not if you're semi-cheap, like me. Observe the ridiculous:
Queensland Kathmandu Aran Tweed = Jo Sharp Silkroad Tweed. Same content, same colors -- it's the same stuff. What's
different
is that 1. Silkroad tweed is easier to find (i.e.
Webs
has it), 2. Kathmandu has more yardage, and 3. Silkroad is more expensive.
I -- hang on. According to the Jo Sharp website there are
104 yards/ball
, but according to Webs it's
93 yards/ball
.
...what?
Even if Webs'd mistakenly put yards when they meant meters they're still off by 3 yards...
I emailed Webs. Stay tuned for inevitable excitement (though it's looking like the correct yardage is 104).
REGARDLESS, Silkroad (retailing about $8.50/ball) is still stupid more expensive than Kathmandu (retailing about $7/ball). But! On ebay it's $5.75/ball, and they're ordering some for me, so danceity-dance.
(Quick secret: I am totally falling in love with white tweeds. Esp. kathmandu/silkroad in goose. I could chew on it with love. Nahm nahm nahm...).
(I should probably wait to buy more, though, since I'm already getting a sweater's worth in jewel. Right? Should probably wait? Maybe? Or maybe go directly to goose, bypassing jewel? A puzzlement...).
So I'm waiting on that, but got impatient. The one full skein of sock yarn I have wasn't inspiring me (I have a pair of socks made with that color already), none of my stash was Speaking to me, until I realized! The perfect pattern for the buttery, buttery, luscious pink/light brown silk/merino blend deliciousness I got at SAFF!
And I ordered the pattern online, but they're mailing it to me and I have to wait (but I want it NOWWW). This didn't much help me in the manner of "immediate gratification," so I went through my magazines and -- oh yes!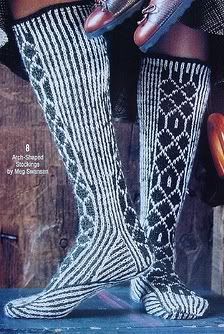 Arch-shaped stockings by Meg Swansen, VK Fall 2006.
I went with two of my local knitterly friends and learned the hard way that the yarn store near where I work -- well, it's not very good. Most of their sock yarn is Opal patterning (ick), the varigated sock yarn is expensive, their color selection isn't very good, and, well, they just don't have much.
I knew that already, but this was sad. I had a skein of Debbie Bliss baby cashmerino which got gauge (7spi) on size 2 needles), but they didn't have any cream/white colors of baby cashmerino and they didn't have any regular cashmerino at all.
I had a beast of a time finding anything that might get gauge, and finally settled on Laines Du Nord Dolly something or other. Worsted. Whatever. So I picked up a nice deep purple and gray but then realized that the gray was more expensive by about a dollar.
What?
I asked the local yarn lady and she said it was likely that it was more recent and Laines Du Nord had probably upped the price, and so they had to as well.
This was annoying.
I ended up with black and purple which, while very pretty, doesn't show the pattern terribly well, but I was desperate. I'm really enjoying the pattern, even if it is a bit of a challenge. More on that later.
#45. I am so much happier with a long term project and a couple of short term projects than I am finishing a bunch of little things in a short period of time. And now I have 3 large projects: an impending sweater, knee-high socks, and the Secret Project.