Curses!
Work's gotten really busy so I haven't been able to write any knitterly anecdotes about how I frogged something
else
(or even finished talking about SAFF!). Then I went to Atlanta for a dance weekend (where, if I'd had free time, I would've hollered to the Atlanta knitters for a meet-up, but I had zero unscheduled time. Oof. But grand!
The first mitten is finished [except for the thumb] and after battling with some serious Second Mitten Syndrome I took the yarn and needles to Atlanta and during drinking-in-the-hotel hours I cast on for the second. I haven't gotten very far. It's not terribly interesting at the moment.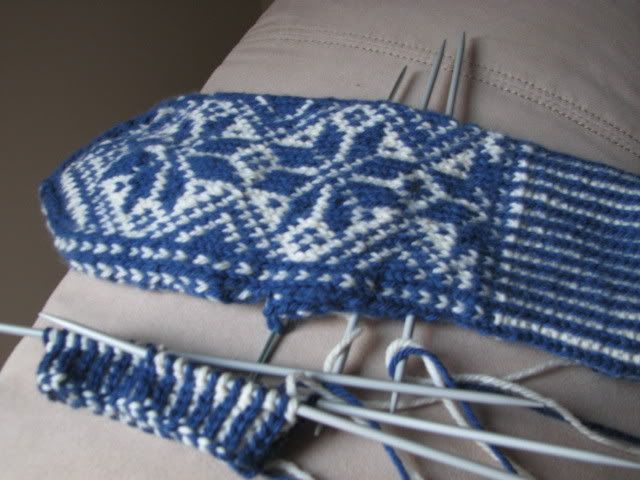 I'm telling you -- I'm so NOT a morning person that even my
camera
can't focus.
Over thanksgiving my grandmother (who originally taught me to knit AND
taught me to wrap the yarn around my finger which, ah-ha, made knitting way faster) is coming to visit. She wrote to say I should bring some ideas for knitting. This makes me giggle with excitement, and also... not have any ideas. I can show her the mittens, but beyond that? Sizzle's not really her thing (too low cut), I'm not working on socks, the scarf I started is pretty boring...
So perhaps I should start something new? (something
else
new). But what? I could bring the blue tweed, but that'll just be a stockinette sweater. New socks?
Okay. Honestly? I want to show off a little bit. I'll be bringing the lace leaf pullover with me, so that's something, but I want to be
working
on something. Y'know? Hm.
Oh, the scarf? It's coming from two skeins of Noro Blossom that I bought ages ago. Simple k2p2 ribbing -- I really needed a brainless project while I took a break from the mittens. The thing about the blossom yarn, though, is that it looks a little... ratty. The fabric has zero body. What keeps me going, though, is the stripes. Mmm, stripey... I might could give it away when I'm finished if I decide I don't like the fabric, but darnit I need more handknits. For me. Me me me.
"Why do I dance? [which detracts from knitting]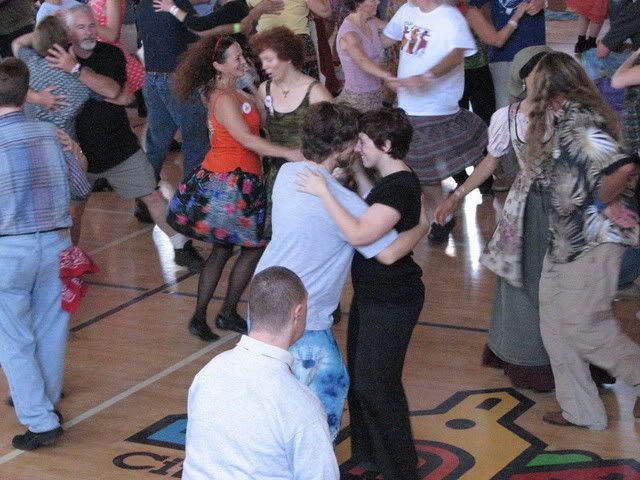 Why do I breathe?" - Someone (that's me in the black)