It don't mean a thing if you ain't got that bling
I am cursed. It has become impossible for me to take a flight that leaves on time. Honestly. The weather gods mark my travel days in their calendar and start arranging major storms.
Because I'm cursed (seriously, there's no other explanation) I spent three hours sitting on a plane Wednesday evening (for a one-hour flight, yes indeed). At the gate I swatched for
Girl From Auntie
's
Shedir
. The yarn in question is Lang's Jawoll which was a part of my Prize! from
Bridgette
. Got on the plane and started ribbing away (that's right, ribbing is a verb. I rib, you rib, he/she ribs. That's right).
The thing, though, is that the pattern's a little weird. It gives a gauge commonly found in sock yarns (8.72 s/in), and yet the manufacturer gauge for Rowan's Calmer is 5 s/in. But what do I do when my spidey sense starts tingling?
BLINDLY BARREL AHEAD! That's right I do!
It seems to be going okay. Since the yarn's skinnier it's a looser fabric (it looks a bit better with the Calmer), but, you know, BLINDLY BARREL AHEAD! So I, um, hope it fits somebody. Like me. Or dad. It's not so much a man-hat, though, is it?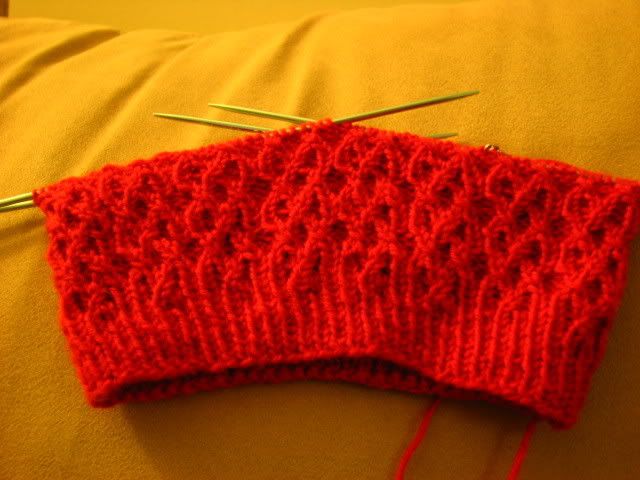 Before I left my apartment I looked at my stitch markers and thought, "Naw, I won't need those." I remember that
exact moment.
Naw, I won't need those.
I ribbed (
totally
a verb!) and got all keen on starting Wee Cable Action! And realized that hey! Stitch markers would be a really useful right now. Oh.
...oh.
I searched my bag and found nothing mini and round. I had a broken keychain, but I couldn't quite break the links. So I asked the stewardess if she had any paperclips. Safety pins? What did I need them for? Oh, my knitting. Anything small and roundish?
She frowned thoughtfully. "Soda can tabs?" she offered. Yes!
"...Really?"
I asked for five and she brought me two, but damned if it didn't work. Ish. Add to that the broken keychain (which, in my impatiance, I managed to at least partly dismantle) (see? This is why I never throw anything away. You never know!) and my ring and I was set.
I would have an artistic recreation but all the soda tabs would pop off and so they're, um, still up in Philadelphia.
The hat, you see, was a red herring
1
for KAP (knitting around parents) and also because... well. The allure of a new project. You know. Turned out I didn't do
any
work on the mittens, nor did I even show them to anybody. Ah, well.
I tried
cabling without a cable needle
(I tried that first one) but it elongated the crossed stitches in an unattractive way, so I just used an embroidery needle as a cable needle and went about my business. Now that I know there are other options I may try them.
I went dancing on Saturday (12 hour dance, what what??) and during the half-hour breaks while the bands switched around onstage I would periodically pull out the hat. There were a ton of knitters there! It was very encouraging.
Also, I figured out how to fix a mis-crossed cable by dropping only one stitch! I am so clever. It's easiest with one-stitch crossings. If there's interest in a demo I can do a test swatch and document the whole thing.
For serious, though. Must finish mittens. Christmas is coming! (Christmas is coming! Run!)
#39. I think the internet has given me totally unrealistic expectations of how long knits should take from cast-on to cast-off.
1
"This all has nothing to do with my disappearing nuclear physicist husband or Col. Mustard's work with the new top-secret fusion bomb?"
"No. Communism is just a red herring."