Questions and pictures
I... tagged myself? from
Elizabeth's
interview. Here are the questions from her (she kindly let us select from a list):
What is the thing you like most about yourself? The least? Extra points if it's two sides of the same coin!
Empathy. It makes me kind, thoughtful, and a wicked gift-giver. I can sense the mood in a person or in people and adjust how I act to accomodate it, which can make conversations really comfortable. And it makes me so scared of hurting people's feelings that instead of being clear and direct I get really passive aggressive and wimpy.
I could write a book about this.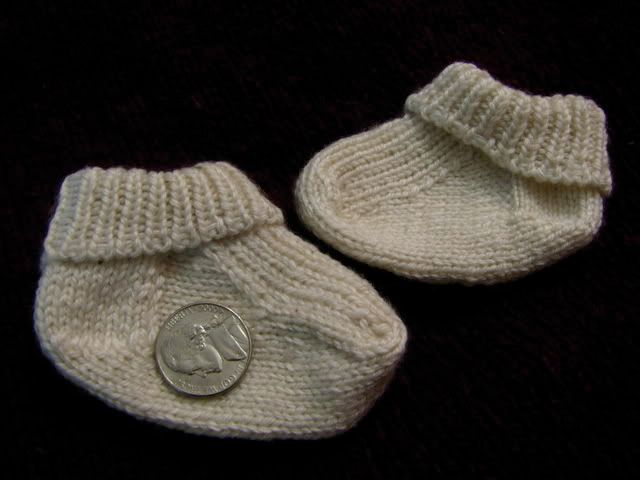 Bebe socks for SteveAndDeb's impending bebe
If you could go on vacation anywhere in the world, money is no object, where would you go and what would you do there?
I'd visit my friends. My dancer friends in Scotland, Beth in Korea, Lauren in Bulgaria, Paige, Dan, and Chelsea in Chicago -- all these people all over the world. When I got there I'd take them all out for excellent food and wine/beer.
Alternately, I'd like to have a jet, pack up my friends and take them to somewhere in the Caribbean for lounging purposes. I'd also fly out a band and caller and have nightly contra dances followed by late night swing dances. Knitting in the afternoons, scuba diving in the morning. That'd be so sweet!
Is there a sport or adventurous hobby you've always wanted to try but haven't? If so, what is it?
Part of me wants to try sky diving. Confront those "omg fear of heights eeeee omg" feelings. I don't know if I'll ever do it, though. I thought my plane coming in this weekend was descending a little too fast and I still have red half-moon marks in my arm from my nails. Ow. I can't imagine what jumping out of a plane would be like. I imagine I would pee myself.
Tell us about your most embarrassing moment, but only if you want to.
Oh, but there are so many! How about when I was in a play in middle school, when I didn't bother to learn my lines and so had to read them from the script, hidden in a manilla folder?
Or when I was in a play involving the wearing of roller skates? I was standing there listening to someone talking about something when I realized I was going to lose my balance at any minute and there was
nothing I could do about it
. And, just as I'd predicted, one of my feet shot out and I stumbled -- but didn't fall. A miracle! When I went backstage one of the techies asked if it was true I'd fallen. Nice.
And, of course, the time I was caught plagerizing one of the American Girl stories in English class in elementary school.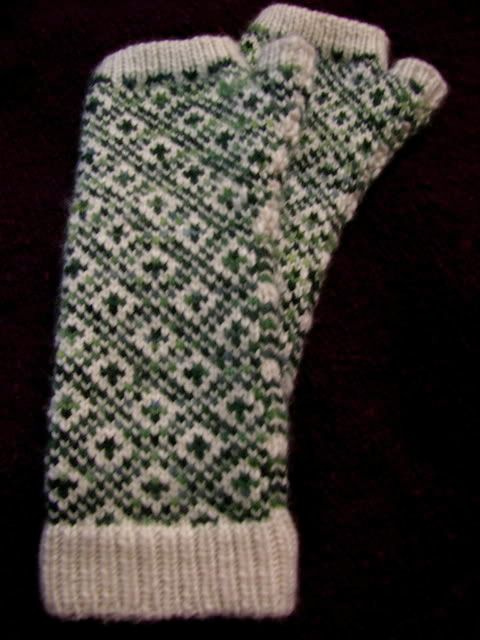 Emily's mitts! I definitely did not fake the blocking by sticking my ipod shuffle in the bottom of the top mitt. Cough.
What is your favorite game to play?
Wink! (Also inexplicably spelled winq). It's a game that (generally) young Quakers play at gatherings to get out energy and some sexual frustration. Here's how it goes: everyone but one person has a partner. The person without a partner is the "winker." Everyone sits in a circle and your partner is either in front of you or behind you (if the group is small it might be a line with the winker sitting 10-15 feet away from everyone else). The winker then calls out a few people sitting in the front row -- either by name, shirt color, or anything else they might think up. It's the job of the people called to get to the winker and kiss them somewhere above the shoulders. It's the job of their partner to keep them from doing that by any means except tickling or major wrestling holds. Including clapping your hand over their mouth. And there's no standing up.
My favorite rule is that "ow" means keep going, and "stop" means stop. Awesome, awesome game.
Want me to interview you? Leave a comment. A comment with a joke. Just 'cause.
The sox:
Final successful cast on: May 14, 2007
Finished weaving in the ends: uh... somewhere around the 21st, I'll say.
The originator: My basic sock pattern (pretty close to the
Yarn Harlot's
in
Knitting Rules!
), without the slip-stitch heel. Ribbing continued down the foot and into the toes.
The string: What is likely Rowan 4-ply soft (I have tons left even after making 1 adult sock and 2 wee bebe socks).
The sticks: Size 1 (ish) dpns.
Pattern shmattern: Cast on 38 with a tubular cast-on.
The mitts:
Final successful cast on: Got me.
Finished weaving in the ends: Somewhere around the 25th?
The originator: Eunny Jang's
Endpaper Mitts
.
The string: Malabrigo worsted in natural and some variety of green.
The sticks: Size 1 (?) dpns for the ribbing, size 2 addis for the body.
Pattern shamattern: Well, my gauge was crazy. And I think I've guaranteed myself some eventual carpal tunnel. I reduced the amount of ribbing at the top to make it more reasonable length, but that's about it.