Brilliant!
You know what would be clever? Checking cold meds to find out if they're "daytime" or "nighttime"
before
I take them. Sure would be clever, that... So if I sound a little... off... then... it means something.
Because I'm a dreamer (sometimes) I entered another contest. A
Name this Cardigan
contest run by Brigitte of
Wrapped Around My Finger
. It's a lovely Norwegian sweater with red and white fair isle. I offered "Sunrise Cardigan," because with the zig-zags and all... you know... kind of sunrise-evocative, even though, you know, tbthh, boring.
And then I clicked on the picture from the patternmaker's
website
to get an idea of the finished project. Check it out: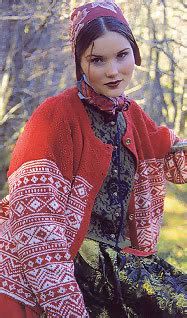 Boy, I thought, she looks pissed! And so I added a name to my contest entry:
The Surly Norwegian.
I thought it was the peachy keenest. And apparently so did Brigette!
Okay, I wasn't
the
winner, but I'm a runner-up, which I think is just the coolest. I get a prize! I like prizes!
Aw, yey.
What else. Oh, so much else.
I tried on the Sizzle last night, and first of all:
#35. If you want to try on something that's on circular needles it's easier to put it on two circular needles (ideally the same size or smaller) so you can try it on instead of threading the whole thing onto waste yarn and then putting it all back onto the needles when you're done.
Conclusions?
1. Oh... it's... oh, kind of loose... and a little... huggy of curves that don't want to be hugged... Oh... Well! Um... maybe it will improve when finished?
2. ITCHY ITCHY, OMG ITCHY! With the little bits of poke-y yarn! That wasn't supposed to happen!
3. Um, a wee bit short... I like longer torso'd shirts, and this one... well, it needs a bunch of inches to get it where I want it, but that puts the V neck at
below
the center of my bra... Oh dear... And I don't want to go back AGAIN...
Options?
1. Waste bin. Deny any knowledge of project. Sizzle? What sizzle? I make socks!
2. Frog, knit in a smaller size (and, I don't know, follow the directions this time?)(I'm concerned that this would hug the
wrong
curves. You know, the belly-curves, or the right-above-the-waistband-curves).
3. Knit an inch taller to get a length that just might pass and pray like crazy that the attached neckband will cover my bra.
I'm going for option 3. Wish me luck.
In other news, the jerks at
Webs
are having a beastly sale on
Debbie Bliss Merino DK
.
$2.75 per ball!
Holy shit! How can they
do
this to me?!
I debated briefly -- it's nearly perfect for the
Classic Slant Cardigan
(one spi larger, but easily adaptable), which I'd been planning to make for my mom. I'd been searching for months for yarn for the sweater, but it was all more than I wanted to spend or the wrong color and so I'd given up to work on the mittens (hahaha!).
BUT! Will I ever get to the project? What about the big makeup purchase yesterday? And the
fiber festival
this weekend? I need moneys for that!
So I asked one of my co-workers. She's a crafter too. Buy it! She said.
And I agreed. I have the project laid out, it'll never be on this big a sale again, and even if it doesn't work for this it'll be good for something else. If I don't get it now I'll likely just get it later and I may as well get it while it's cheap. So I did. Hee!
Finally: fiber festival! Eeee!
Query: is it geekier to geek out about yarn than it is about, say, comic books? Discuss.