SAFF play-by-play!
My first Fibre fair. Oh heavens.
Miss Kate was supposed to join me, but couldn't at the last minute. Since I couldn't get in touch with MattAndJulie to see if I could stay with them on Friday night (because I'm a chicken and didn't call them but rather sent emails) and hotels = expensive, I decided to head out on Saturday morning.
Stupid early on Saturday my alarm went off (getting up at work hours on the weekend?! Sinful!) and I showered, pulled on my Lace Leaf Pullover for her debut, forgot to get breakfast, packed my camera, checkbook, and two (why two?) notebooks. Into the car, off to the gas station for brekkie (pound cake... it's almost nutritious!), and then!
A million miles to Asheville. Meaning 180. Which is plenty, thank you.
Some bad mapquest directions later (apparently "right" means "left") I found a parking spot and walked up to building number one! To my left was a building that had a sign saying "ALPACAS." Heep! Omg.
I walked in, and saw this: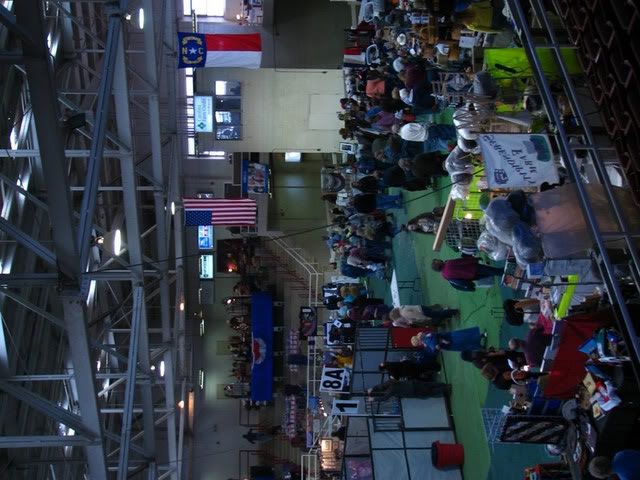 And I believe my heart exploded just then. Two! It--
two floors!
Of YARN! And FIBRE! I've never seen so much yarn in one place at one time. I've never seen so many
knitters
in one place! And spinners! My stash runneth over!
I started walking around the top section in a daze, fondling fibres and yarns as I went. How, I wondered, does anyone ever decide what to buy? There's just so
much
that the thought of settling on any one thing is completely flabbergasting. I'd set a basic budget, but was willing to overlook it if need be (how many fibre fairs do I go to? None. Well, one).
Clearly the best course of action was to wander the whole place, get an idea of what's around, then go back.
Hello!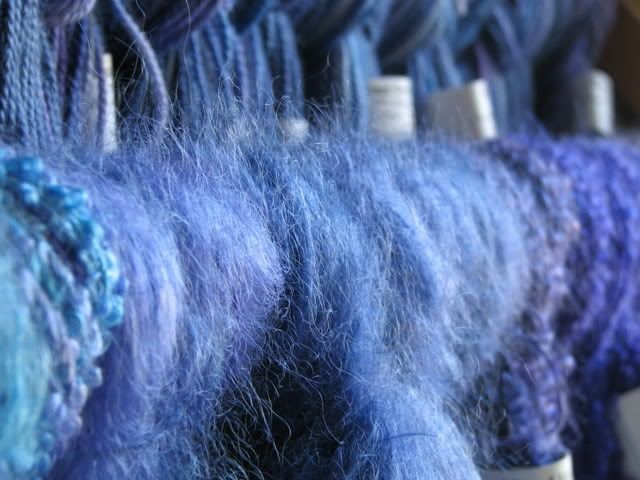 Oh BABY...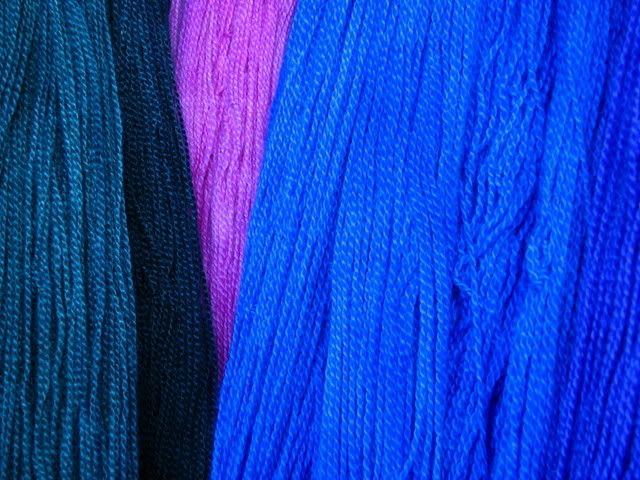 And I made it through the whole top floor and about 3/4 of the bottom floor before my hand fell upon some merino/silk. I squoze. I loved. My checkbook quivered in fear. A round rack of the softest, squoziest, most buttery, delicious yarn that I've ever felt. My knees went weak and I wrapped my arms around the rack and hugged the yarn.
Dignity? Overrated.
But
this!
This place! They understood. The vendors giggled at me and
got
it. Oh. Heaven! I eventually settled on a skein of fingering-weight variegated red/black/pink/gray yarn ("Power colors," the seller called it). "I don't care how much it costs," I declared to myself. "Wait, how much is it? Yeep! Um. Well. Whatever! Fibre fair! Gimmie gimmie gimmie!"
Ahhhhhh...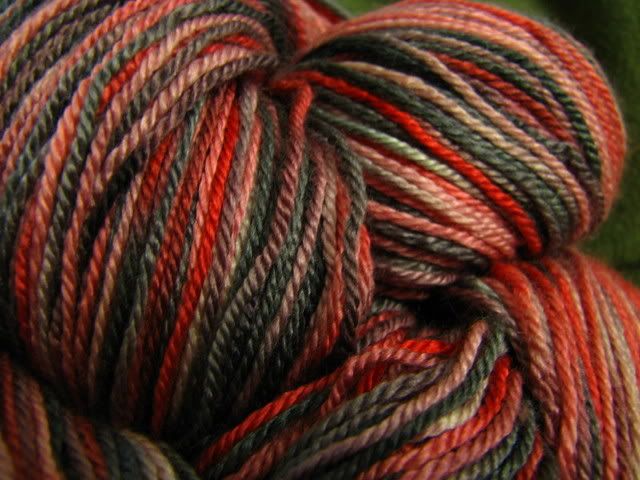 A few booths down I spotted some batting. Purple mixed with hot pink. Oh, it was sexy. Yes it was. I touched it. Soft! I picked it up and hugged it, ready to growl and snap at anyone who came near me. The vendor -- she and I chatted every time I made a lap around the bottom floor -- asked if I was ready. Oh! I'm just going to look around. I settled on just the batting. While I haven't, um, had much success with spinning yet I think proper motivation will really help. So pretty!
I ended up watching someone spin on an Ashford Joy -- the very wheel I've been thinking about getting. As I stood, mesmerised, the spinner's friend,
Grace
, started chatting with me. And hoo boy she was cool!
Elizabeth
spun away as Grace told me that she'd decided she was going home with either a rabbit or a spinning wheel.
Of course! I love it.
Then she let me know that there was a knitblogger meet-up.
!!!!!!!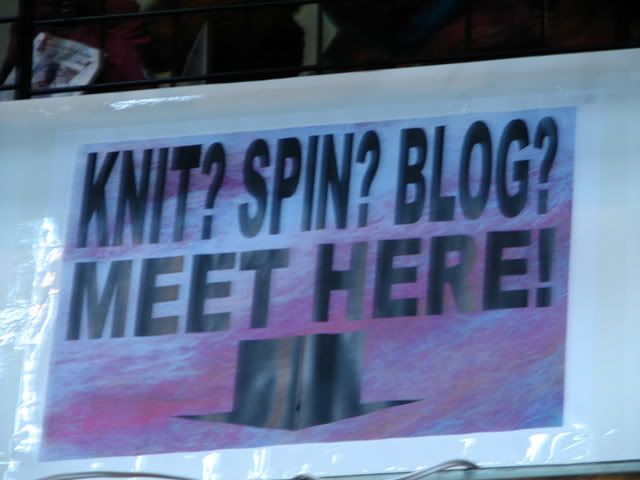 I knew I started this for a reason. I tagged along and oh!
Oh. It -- oh. I have found my
people!
(well, my fibre-related people). They
get
me! They're just as obsessive as me and they speak my language!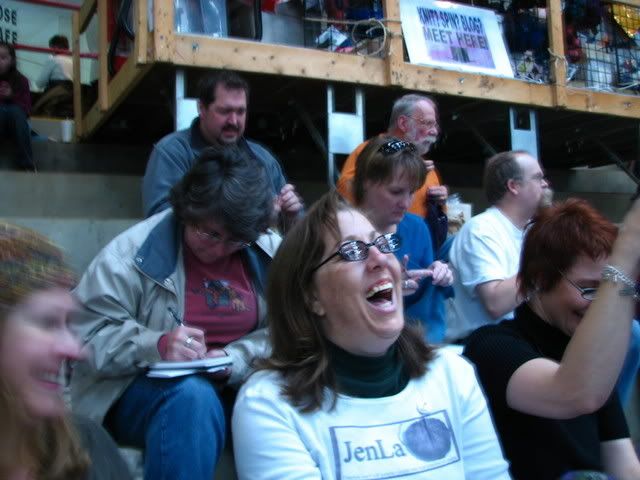 Someone said "flash your stash" and my heart skipped a beat.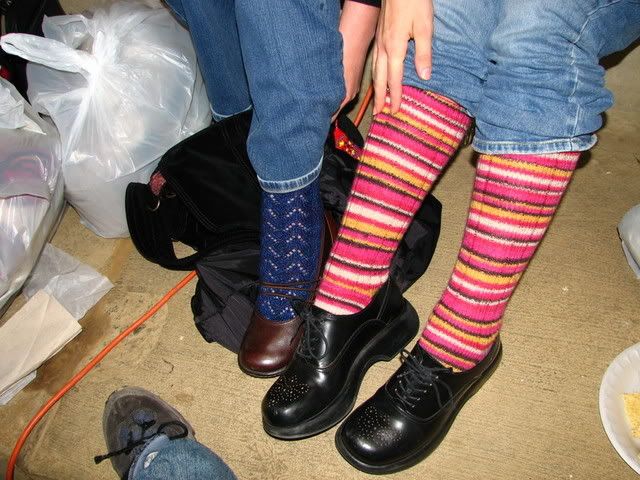 And I learned that apparently people read my blog! That is really exciting.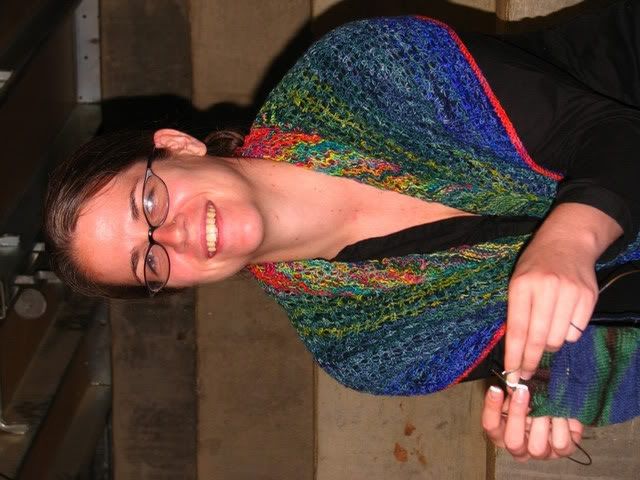 Hello, people! Leave comments!
And the Lace Leaf debut?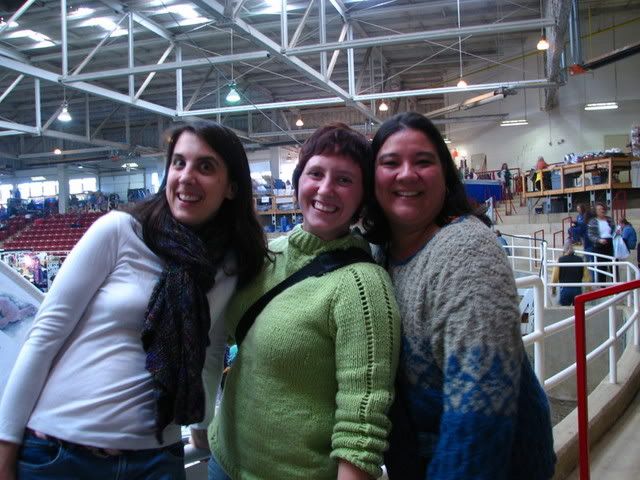 It shed all over my bag and bunched around my chest, but I've never been so proud of something I've knit. And that picture makes me so happy!
I ended up being very reasonable with my purchases. I got two more skeins of the merino/silk in a slightly heavier gauge in a stunning antique rose color.
I tried to find little gifts for my two local knitters, Kate and Andrea, but I just couldn't find anything. "Ah!," I'd say, "a little skein! ...of $20 silk. Right." I love them both, but in this instance it's not $20 worth of love.
There was a blogger meet-up at a pub at 7:30, but I was done by 4:45 and had nowhere to hang out before the meet-up, so with a heavy heart I went home. Good thing, too, because 8:45 rolled around and I went to bed. And slept for 13 hours. Heh.
More to follow!